Pros:
Lightweight and compact even though it has a 16.1 inch screen
Per-key RGB backlighting
Powerful CPU
Affordable for a laptop with these specifications
Cons:
Lower TDP version of the graphics card hinders performance
Comes with Windows 11
Comes with assorted bloatware
Even though modern devices may seem like incremental upgrades upon their predecessors, this isn't always the case under the hood. In this review, I'm going to evaluate the HP Omen X16 ($1500 as tested) to see what today's latest technology can do.
This premium gaming laptop is the first device I tested that uses Windows 11. Although Windows 11 is mostly a re-skin of Windows 10, it is more unstable than its predecessor.
Design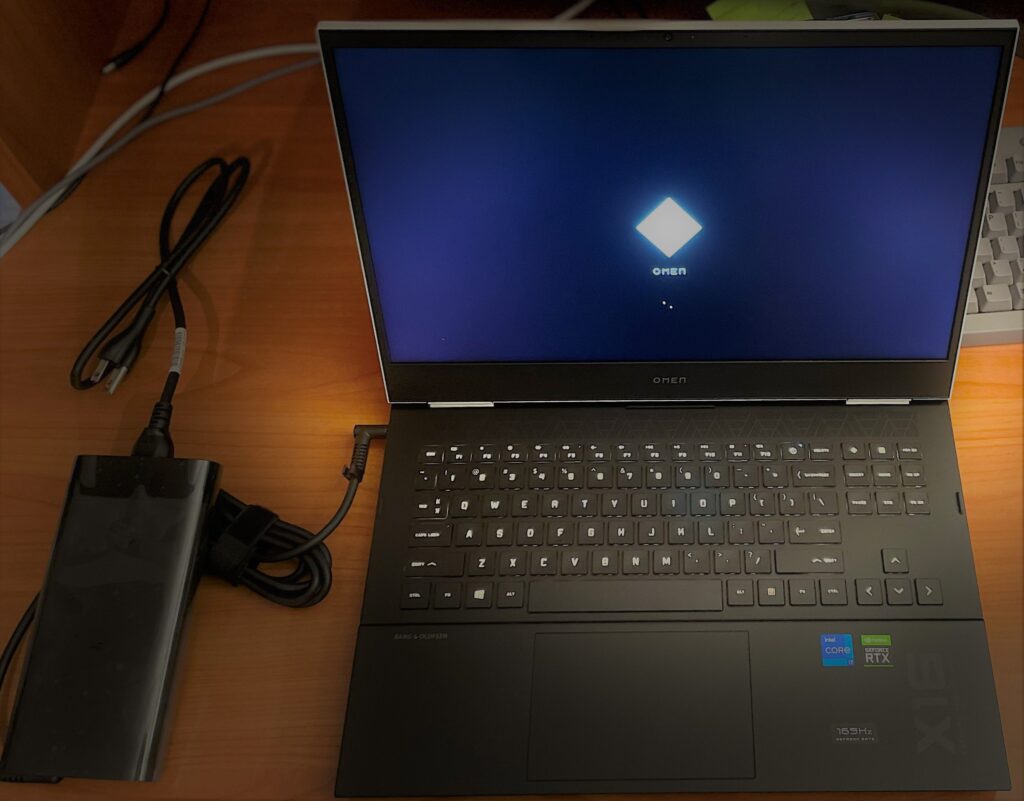 The entirety of the laptop's chassis is made of a premium-feeling plastic. The lid has a mirror-finish OMEN logo, not unlike Apple's MacBooks. Once you open it up, you can see the RGB keyboard (no number pad), along with the large touchpad. Overall, it is a very modern design and not at all a laptop that tries to show an outward "gamer" aesthetic.
On the left side, you'll find:
Power jack
Ethernet port
USB-A port
Mini DisplayPort
HDMI
Thunderbolt 4 port
Headphone jack
Full-size SD card reader
On the right side, there are just 2 USB-A ports. There are no other ports on the front or back. Overall, this is a fairly good port selection considering it includes Ethernet, DisplayPort, and a full-size SD card reader, something that a lot of devices in this price category don't have.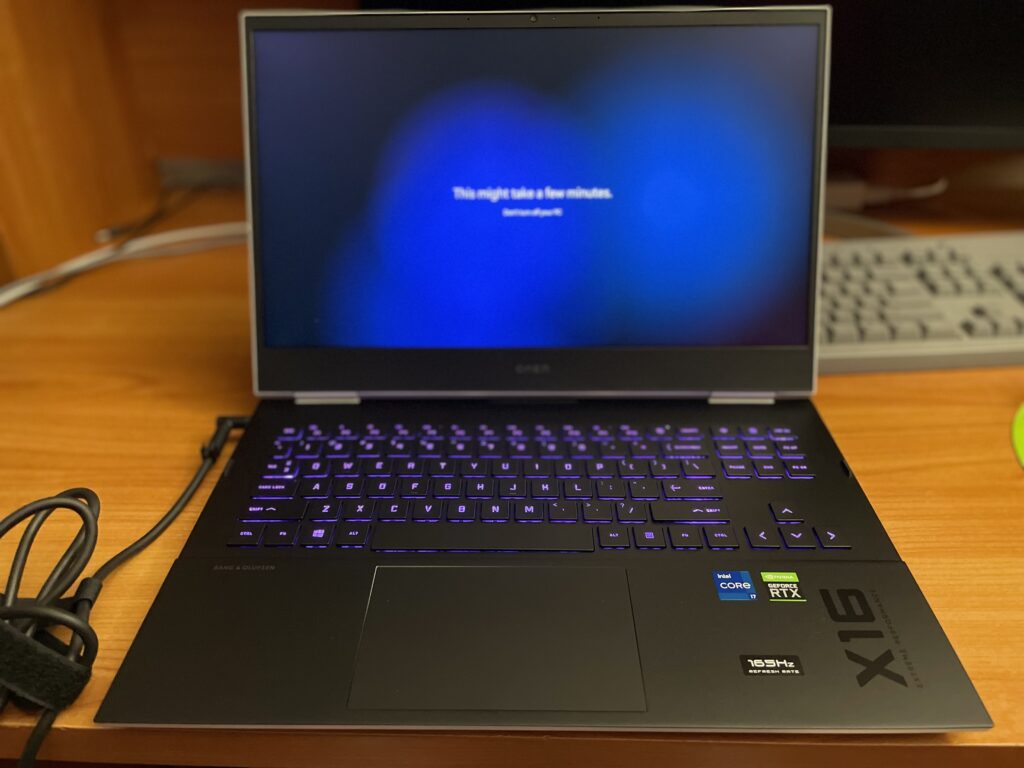 At 0.91 by 14.54 by 9.76 inches, the X16 has a fairly small footprint while incorporating a larger display than the 15.6 inch displays normally used in this class of laptop. Furthermore, its weight of 5.11 pounds is about average, although due to the materials used it feels lighter than it really is.
Using the HP Omen X16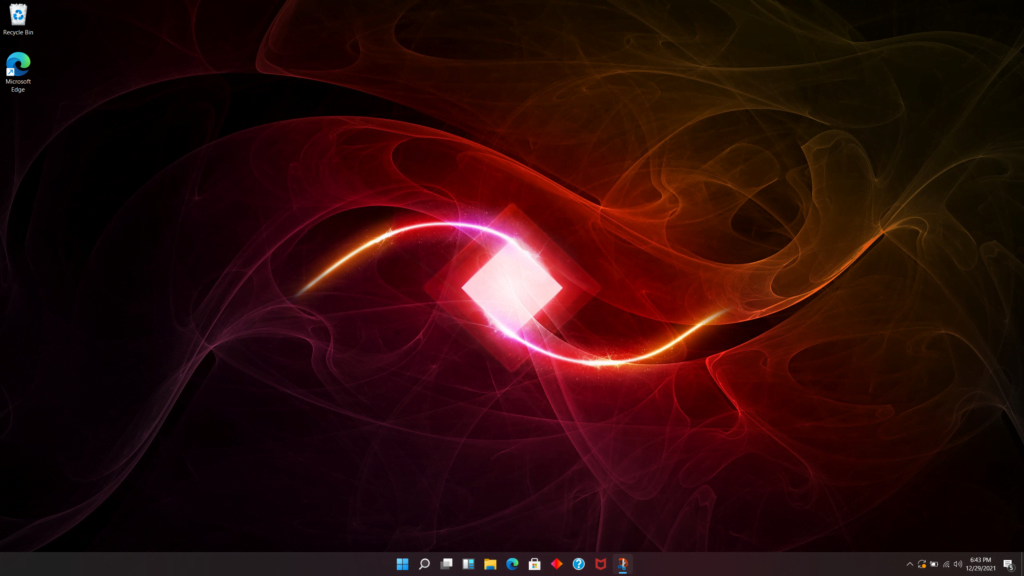 Overall, this laptop was a pleasure to use in a way many others are not. For one, its 2K screen is the densest I have seen, leading to pixel-perfect visuals much clearer than your standard 1080p screen. Furthermore, the 165 Hz refresh rate is very useful for fluid animation.
The touchpad is expansive, which is a plus for any MacBook users. However, it does not include any separate depressable buttons, so it will wear out over time. Its glossy finish did pick up dust fairly quickly, but not fingerprint smudges.
As for the keyboard, it is a fairly standard chiclet keyboard with adequate travel. One interesting feature of this keyboard is the dedicated calculator button, which automatically opens the Windows Calculator app. The RGB backlighting can be configured with various pre-configured patterns through the HP Omen Hub app which comes preinstalled.
HP Omen X16 Specifications
| | |
| --- | --- |
| CPU | Intel Core i7-11800H |
| Graphics | Nvidia GeForce RTX 3070 Laptop GPU |
| Memory | 2×8 GB DDR4-3200 |
| Storage | 1 TB NVMe SSD |
| Display | 16.1 inches, 2560 x 1440, 165 Hz with G-Sync |
| Webcam | 720p |
| Battery | 70 Wh |
| OS | Windows 11 Home |
| Dimensions | 0.91 by 14.54 by 9.76 inches |
| Price as tested | $1499.99 |
The HP Omen X16 Benchmarked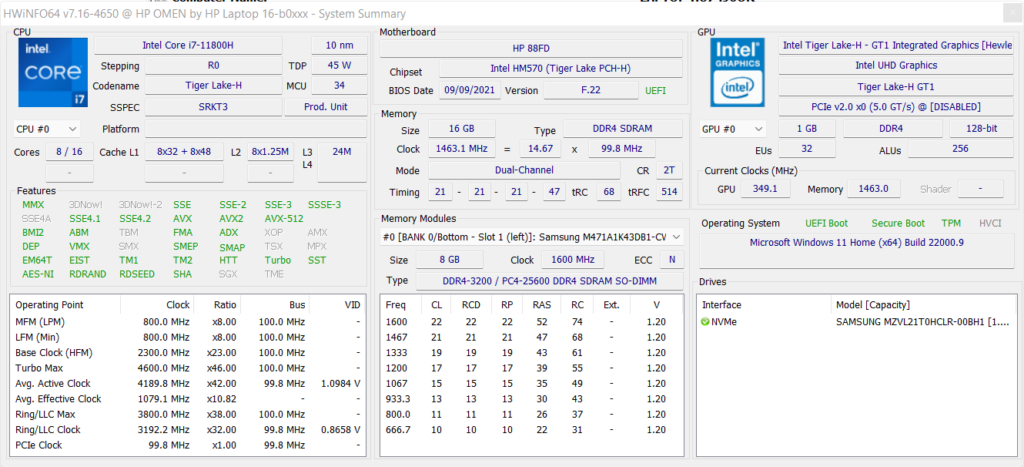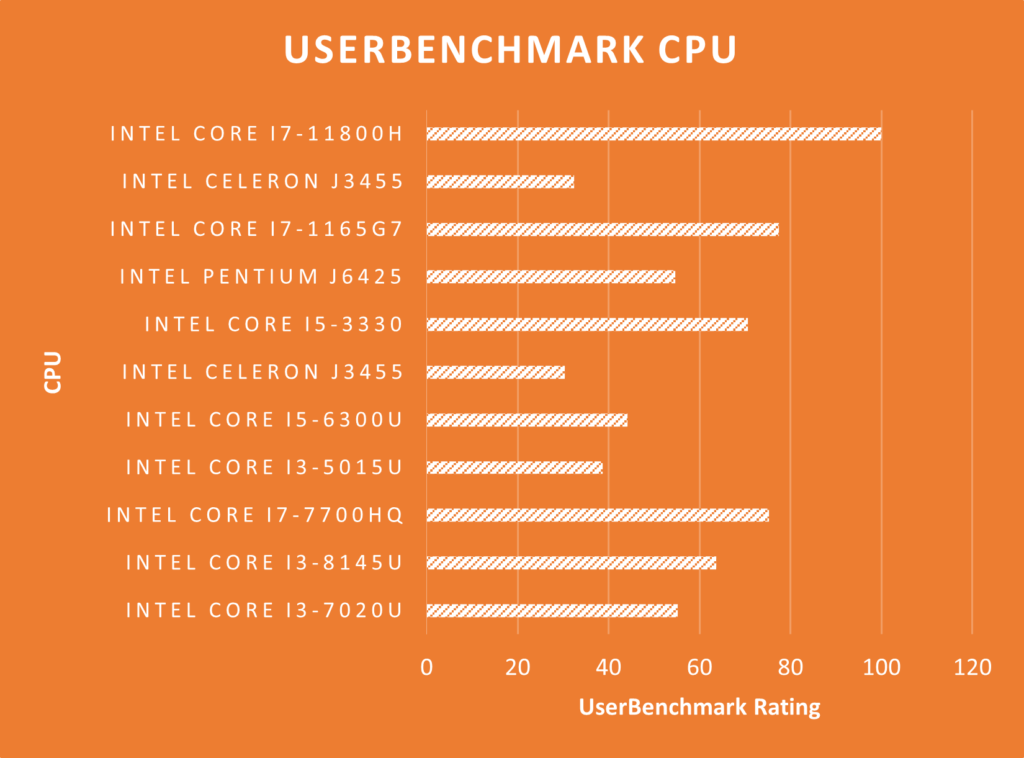 We can see the i7-11800H is a sizable step up from its lower-powered counterpart, the i7-1165G7, and from its distant predecessor, the i7-7700HQ.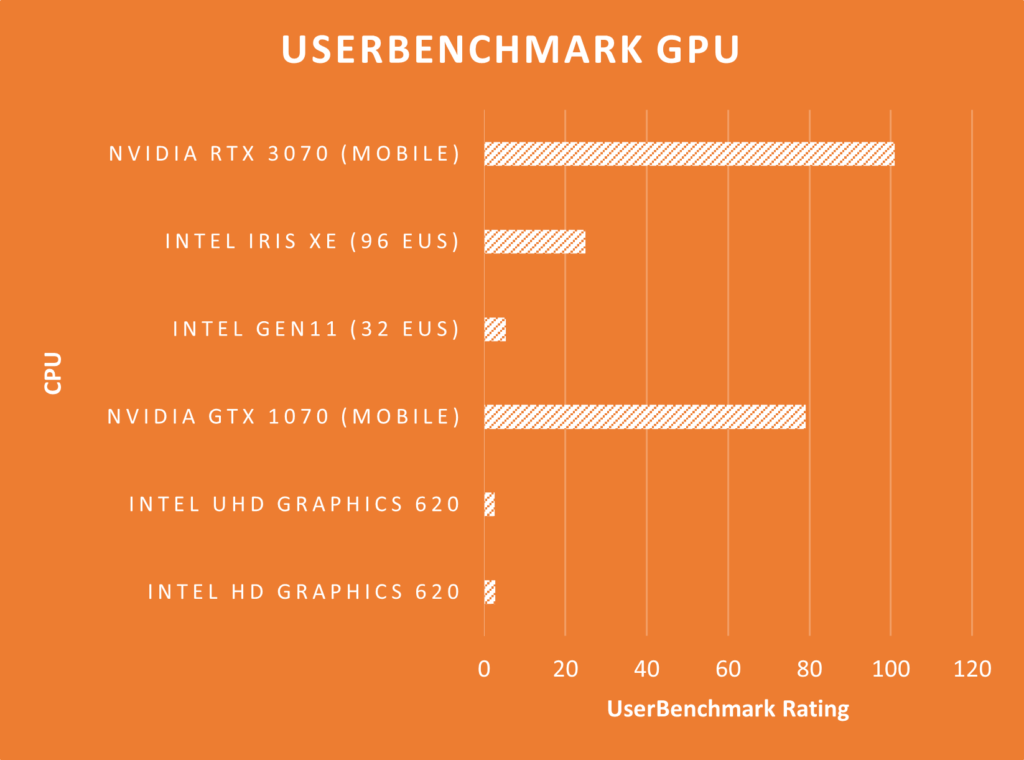 Furthermore, the 3070 provides a roughly 25% boost over the 5-year old GTX 1070. Of course, this is probably the lower limit to the performance delta as UserBenchmark is primarily a rendering based workload.
Since the Intel Core i7-11800H CPU is based on the same Tiger Lake microarchitecture as the i7-1165G7, it performs only slightly better in non-parallel tasks due to its increased TDP. However, since it has double the cores, it is significantly faster in parallel jobs.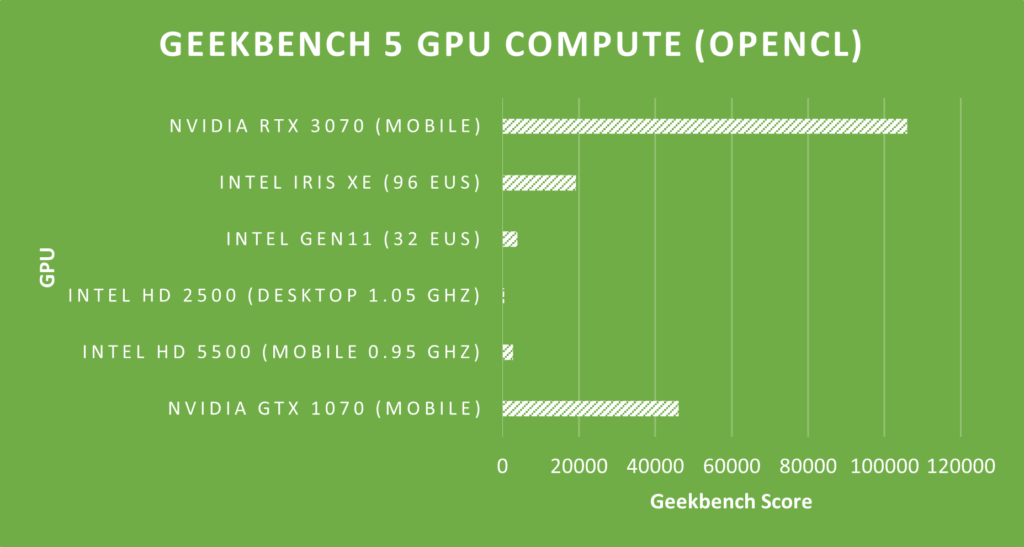 The more interesting comparison with Geekbench here is comparing the GPUs. Of course, integrated graphics chips have far less memory bandwidth and power available to them, so they lag far behind the 1070 and 3070 in these benchmarks. However, it is impressive that the 3070 is more than twice as fast in these compute workloads as the 1070.
Browser Benchmarks
It is clear that the 11800H processor in the HP Omen X16 is much faster than older desktop and laptop processors.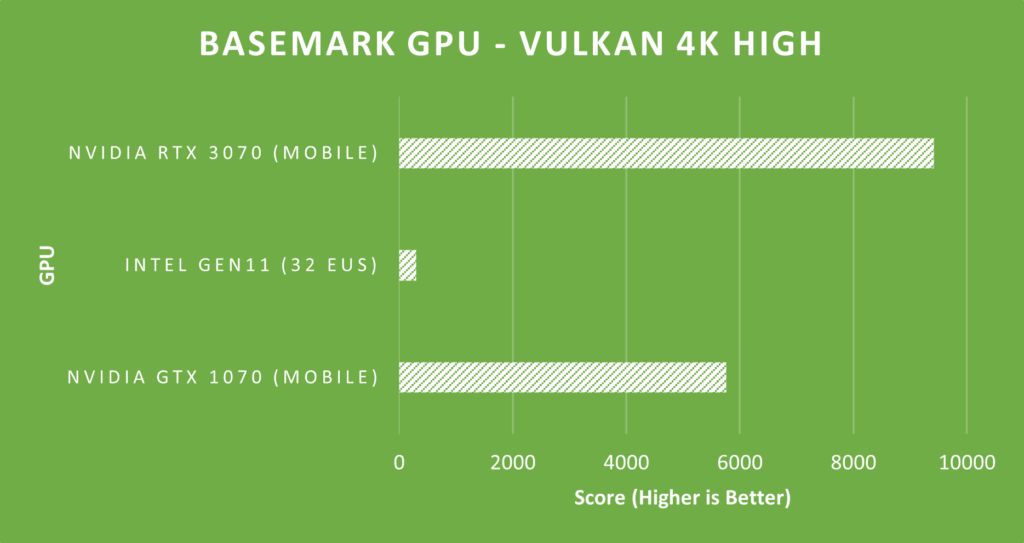 Finally, we have Basemark GPU, a GPU rendering test. It is clear that the 3070 is far ahead of older hardware once again.
Conclusion
Considering the overall laptop market at the moment, the HP Omen X16 is in a strong position. Even though it is more affordable than its competitors, it retains the premium elements which makes it a good choice. While the differences may be hard to notice in the spec sheet, they are there, and very useful at that. The 1440p screen, calculator hotkey, customizable RGB lighting, and fast SSD all make a difference. Overall, I would recommend this laptop over its far pricier alternatives as a solid and powerful computer.